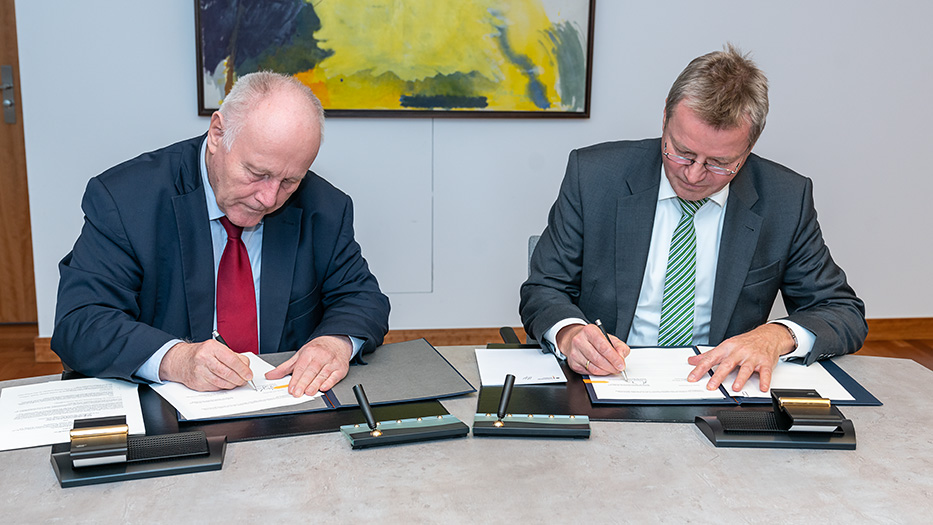 Source: BMI
News · 26 November 2018
Germany renews membership in Forum of Federations
State Secretary Helmut Teichmann and Chairman of the Board of Directors Prof. Dr Milbradt sign framework agreement
State Secretary Helmut Teichmann and the Chairman of the Forum of Federations's Board and former minister-president of the German federal state of Saxony, Prof. Dr Georg Milbradt, agreed to renew Germany's membership in the Forum of Federations for another three years.
The Forum of Federations is an organization based in Canada which seeks to promote federalism worldwide through international workshops, conferences and publications.
There are ten federally organized partner countries (Australia, Brazil, Canada, Ethiopia, Germany, India, Mexico, Nigeria, Pakistan and Switzerland). The organization also counsels other countries when it comes to matters regarding decentralization.
The Federal Ministry of the Interior, Building and Community, the Federal Foreign Office and the Federal Ministry for Economic Cooperation and Development support Forum of Federations projects via GIZ, Germany's organization for international cooperation.
"We are delighted that we will continue to cooperate, and wish the Forum of Federations every success in its work in the next three years – work which cannot be overrated", State Secretary Teichmann said when signing the agreement. He also said that he was happy that Professor Dr Milbradt was willing to continue to represent Germany on the Forum's Board of Directors.