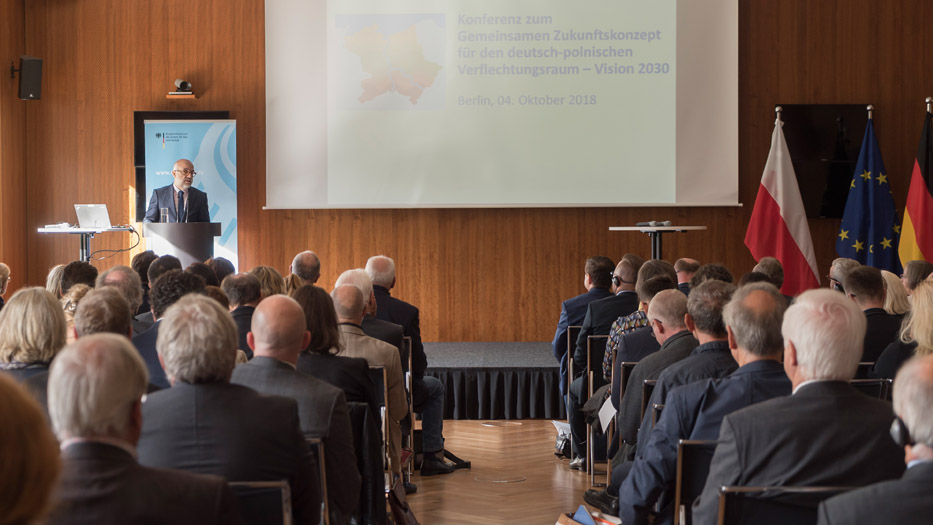 Source: BMI
News · 05 October 2018
Common Future Vision 2030 for the German - Polish Interaction Area
State Secretary Markus Kerber opened the conference on the Common Future Vision at the BMI
The strategy was developed by the Spatial Development Committee of the German–Polish Governmental Commission for Regional and Cross-Border Cooperation. The Federal Ministry of the Interior, Building and Community (BMI) is chairing this committee. The strategy sets out a common vision for the development of the region on both sides of the rivers Oder and Lusatian Neisse by 2030.
In his welcome speech, State Secretary Kerber stressed that this regional planning conference was a first for the interior ministry. He noted that the responsibility for regional planning had been transferred to the ministry only this year and said he was happy that it also involved German–Polish cooperation. The aim of the ministry's domestic policy – based on the concept of Heimat – is to create good living conditions and ensure that people feel comfortable where they live. In regions close to the border, this always has an additional cross-border dimension. In many cases, these regions can greatly benefit from working together with neighbouring regions across the border to explore their joint potential. The Common Future Vision impressively illustrates such potential for the German federal states and the Polish voivodeships along the German–Polish border. The Federal Ministry of the Interior, Building and Community promotes further cooperation in these regions, for example through a competition, which was opened at the conference, for flagship projects to implement the Common Future Vision.
Conference attendees included high-ranking policy-makers from the federal states of Mecklenburg-Western Pomerania, Brandenburg, Berlin and Saxony; from the Polish voivodeships of Western Pomerania, Lubusz, Greater Poland and Lower Silesia; and from the Polish embassy in Berlin.
Brandenburg's Minister-President Dietmar Woidke, the Federal Government coordinator for German–Polish cross-border cooperation, explained that a German–Polish region was needed with attractive infrastructure and services of general interest where young families in particular would enjoy living. According to Dr Woidke, the Common Future Vision is a good basis for creating such a region. Ms Kathrin Scheider, Brandenburg's Minister for Transport and State Planning, said that one of the achievements of the strategy was that it had caused a shift perspective by viewing the German–Polish border region not as being located at the fringes of each country, but rather at the heart of Europe.
Dr Walter Deffaa, special adviser to the EU Commissioner for Regional Policy, welcomed the fact that the Common Future Vision provided a good overall strategy for the future use of EU funds in the new funding period from 2021.
The attendees from Germany and Poland agreed that, thanks to the Common Future Vision, the regions on both sides of the Oder and Lusatian Neisse rivers would be able to offer residents a high quality of life.
For further information on the event, the competition and the Common Future Vision please visit: www.kooperation-ohne-grenzen.de.