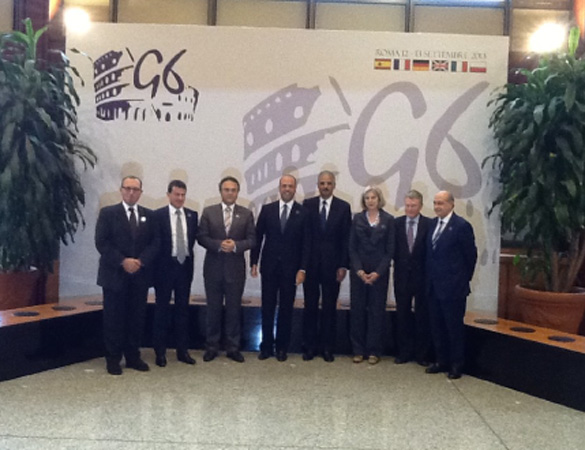 Source: Federal Ministry of the Interior
News · The public service · 20 September 2013
G6 interior ministers meet with U.S. counterparts in Rome
Federal Minister Hans-Peter Friedrich met with the interior ministers of France, Italy, Poland, Spain and the UK as well as U.S. Attorney General Eric Holder and Rand Beers, acting secretary of the U.S. Department of Homeland Security, in Rome on 12 and 13 September.
One focus of discussion was the conflict in Syria, both the refugee situation and the conflict's impact on security in Europe. Federal Minister Friedrich stressed that European solidarity was needed and called for a European conference on refugees. Germany has already sent a clear signal by deciding to admit 5,000 Syrian refugees, Federal Minister Friederich said.
He also repeated his proposal for an EU electronic travel authorization system (ESTA) in which non-EU nationals register online before travelling to the EU. France's Interior Minister Manuel Valls and the British Home Secretary Theresa May indicated their support for such a system.
The meeting also offered an opportunity to continue the dialogue with the American partners concerning the surveillance programmes of the U.S. National Security Agency.
Attorney General Eric Holder promised that the U.S. government would continue to push for rapid and full clarification of the matter. Holder said he understood how important this issue was in Germany and that the NSA's actions were also being intensively discussed in the U.S. He added that more transparency was needed regarding the work of the intelligence services without endangering intelligence operations.
Federal Minister Friedrich repeated that Germany's Federal Government would do its utmost to improve the protection of individual privacy.
Background
The Group of Six (G6) countries are France, Germany, Italy, Poland, Spain and the United Kingdom. Their interior ministers meet every six months under a rotating presidency.