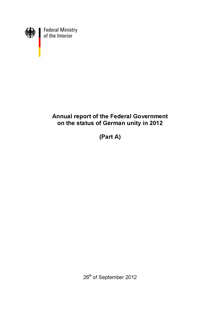 Download

Annual report of the Federal Government on the status of German unity in 2012 (Part A)

The Federal Government is committed to its policy goal of ensuring equivalent living standards throughout Germany. Demographic changes and budget-cutting are impor-tant elements of the framework in which policy-makers, public administration and the private sector will be operating in the coming years.

(67 pages; published September 2012)

PDF, 906KB, File does not meet accessibility standards.
Related publications